With an election upon us in the middle of the COVID 19 pandemic, voting locations, along with everything else, will be adapting to adhere to social distancing recommendations. Counties will be looking for options to create more polling space at designated locations. A major Nevada County has adopted Liri Tent structures as a way to expand space for voting. With stricter guidelines due to the pandemic, this is becoming a more valuable strategy.
The temporary structures that Liri Tent US offers are perfect to expand space for voters. They are cost-effective, simple to install, and can be adapted to meet the needs that arise. Our structures can be configured in many different ways which is ideal in order to help voting polls stay safe and up to date with the latest social distancing guidelines in our ever-changing world.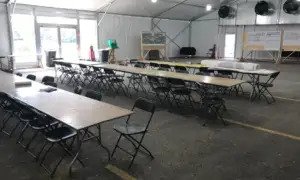 Our clearspan tents have an innovative design that do not require internal support poles, so you won't need to worry about poles interfering in the setup of the room. Tents start at 10 feet and can go up to 200 feet wide with no limit on length. Structures are flame retardant and an excellent choice when considering optimal safety.
Our structures at Liri Tent are ideal for any voting location because they can be built on concrete, sand, asphalt, or grass. Our ease of access and obtainable parts here in Kansas City make this a reliable solution. Have your voting structure ready within days, without having to search for additional voting locations.
With many different options and accessories, we can help you make a space that is suitable and safe for both voters and election workers. We offer a variety of flooring options, as well as a number of siding options, including transparent fabric, glass, and ABS hard walls. Double glass doors can be installed to create easy access for voters. We also have air conditioning and heating units to make the structure as comfortable as possible.
It's important that voting locations be accessible and Liri Tent is the perfect solution for a space that has easy access for all.
Liri Tent offers unmatched quality, value, and customer service while providing the latest products to meet all space needs. You can be confident that when you choose Liri, you are choosing the best product available. Liri Tent US is an industry-leading manufacturer, and we only use the highest grade extruded and anodized aluminum (6061/T6) and galvanized steel fittings. We use 25 oz double coated PVC fabric, which is produced to meet all U.S. National Fire Protection Agency (NFPA) standards.
As we all look forward to the 2020 elections, Liri Tent US has the solutions you need to help expand space and keep the voting environment safe for all. Give us a call today, and have your polling location ready to accommodate voters safely in a matter of weeks!