Luxury structures don't have to be made out of brick and mortar. Having a luxurious long-term temporary structure is a possibility with Liri Tent. With customizable looks and innovative features and accessories, a temporary structure can look just as grand and beautiful as buildings that have been on the same property for years. 
Our top-of-the-line structures are designed with stability and sophistication in mind. Liri Tent structures can be built on almost any foundation, including grass, gravel, concrete, and sand. This means you can enjoy event structures in any environment. Not all events are held on solid concrete or in drab parking lots and they don't have to be with the help of Liri Tent structures. 
Additionally, our structures meet the U.S. National Fire Protection Agency's highest standards and State Fire Marshal inspections. These specifications make our line of luxurious clearspan structures ideal for any situation. Unwanted weather can strike at any time and making sure your long-term temporary structure can withstand the worst is important. All of our structures are made of the highest grade extruded and anodized aluminum (6061/T6) and galvanized steel fittings. 
Our clear span structures are designed and built to structurally support themselves without the need for internal support poles. With this design, our structures give you the maximum use of your space. With structural poles out of the way, you can lay out your event the exact way you imagined it. We offer small, medium, and large beam clear span structures, ranging from 10 ft. all the way up to 250 ft. No matter what size structure you're looking into, all our clear span tents are engineered to withstand both balanced and unbalanced snow loads.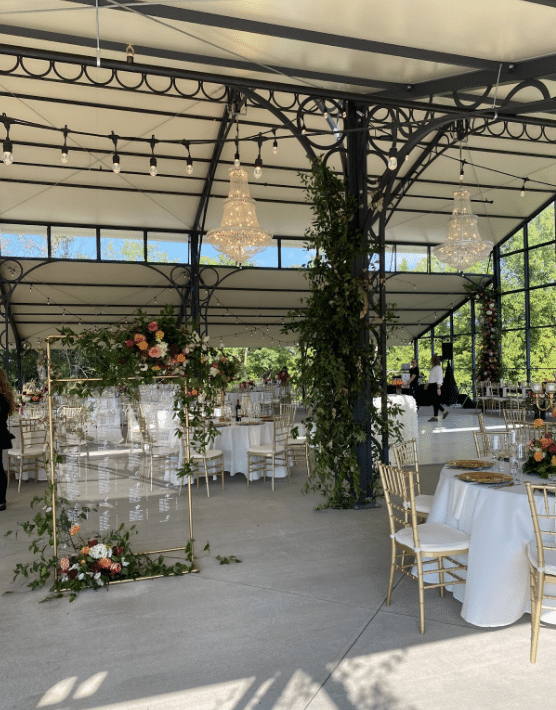 The desirability of our luxury long-term temporary structures doesn't stop at the safety standards. Our structures are also a top choice in the event industry due to their customizable nature. No longer do you need to worry about the limitations of traditional pole or frame solutions when it comes to size, safety, and your useable space. Liri Tent's engineered clearspan structures can come in a variety of shapes and sizes to fit the specific needs of your space and event. Whether your event calls for a fully-enclosed space or an open-air beauty, we can find the right fit for your needs.
We've taken our innovation one step further with our steel garden structure. Perfect for outdoor events, Liri Tent's Orangery structure offers elegance to any event. Its decorative steel framework gives it a sophisticated feel making it an ideal choice for corporate events or outdoor weddings. While it does have internal support, our clients have been captivated by this sophisticated design.
Glamping tents can also be a luxurious solution for hospitality and festival ground structures. Using a glamping-style tent structure can offer an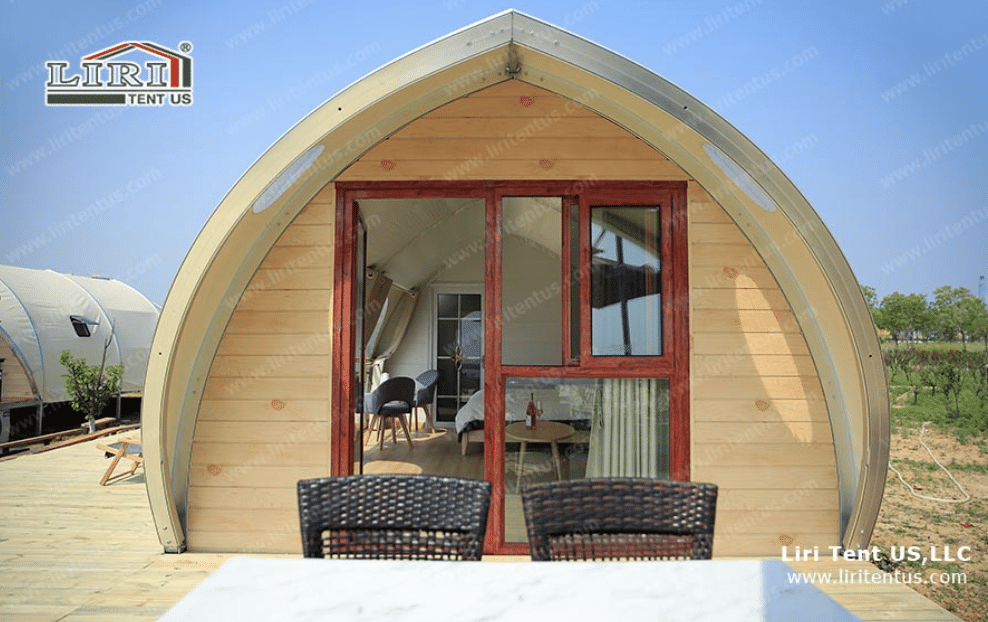 indoor shelter that blends seamlessly into its environment. With their lightweight design, these specific tents can be quickly assembled as needed. Compared to traditional cabinets or cottages, glamping tent structures offer convenience, a lower cost, and do not require complex building approval processes making them a much easier option.
Luxury doesn't have to mean just one thing when it comes to tent structures for your events. That's why we pride ourselves on offering so many unique accessories and features to make your structure work best for you. From custom colors and panoramic windows to air-conditiioning and rain gutters, no idea is too small or too big. Luxury structures also need to be accessible, we understand that. We can outfit your structure with entrance ramps, different flooring options, electric rolling garage doors, or double glass doors with push bars. If you're not sure what exactly may fit best with your long-term needs, reach out to us. Our customer service team can assist you in weighing your structure options and finding the right solutions for you. 
Luxury long-term temporary structures are possible with the help of Liri Tent. As an industry leader in semi-permanent structures, we are proud to offer our customers state-of-the-art clear span tents that are designed with trendsetting technology and the highest safety standards in the industry. Whether it's your first time working with Liri Tent or your fiftieth, we strive to offer the best in customer service and guide you through all steps in the purchasing process.