Liri Tent US has the solution for restaurants and event venues that seek to expand space for food and beverage services as well entertainment; while following social distancing guidelines.
As restaurants and event venues evolve to meet new criteria for the utilization of allowed capacity, we have experienced many restaurants and event venues that have a need for expanding their space. An easy way to quickly expand with little hassle is to use a temporary and/or semi-permanent clearspan tent structure from Liri Tent US. These structures are built to last, are cost effective, and we have a number of sizes and designs to choose from. We can help you expand your space for food and beverage service, seating and entertainment, in order to create more capacity for customers and employees in order to follow social distancing guidelines.
With any structure from Liri Tent, flexibility is key. Our modular designs, with parts readily available in Kansas City, allow you to have a range of sizes and shapes. Need to expand? No need to purchase an additional structure! Our clearspan tents have no limit on length, and installation of added space is quick and easy. Our structures come in width size ranging from just 3 m (10 ft)  for the smallest space needs, to our largest tents, over 60 meters (200 ft). Our clearspan tents are free from the obstruction of internal support poles so that utilization of space is maximized.
Adaptability is another key factor in a Liri Tent product. You can build on sand, asphalt, concrete or grass. Your structure can be ready within days, not weeks or months like a traditional building. This gives restaurants and venues an option of utilizing available space while following social distancing guidelines.
Our accessories can help you create a space that makes your customers feel like they are inside your facility. We have flooring options, as well as a number of siding options, including transparent fabric and glass. You can have double glass doors to create a welcoming entrance to the outdoor space. We also have air conditioning and heating units, to allow you to utilize the space year-round.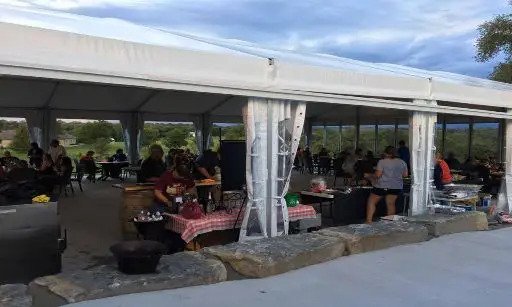 We can also help with additional storage space needs. Instead of having to haul everything you aren't using offsite and rent out a storage facility, or, even worse, take away from possible space you could be using to generate revenue, you can put a medium or long-term temporary storage structure on site, giving you easy access to anything you may need.
Most importantly, as an industry-leading manufacturer, our structures are built with the highest quality of materials in the industry so you can rest assured that you are receiving a top of the line structure that will last for as long as you may need it. At Liri Tent US, we use the highest grade extruded and anodized aluminum (6061/T6) and galvanized steel fittings.
The PVC fabric we use is 25 oz double PVC coated polyester, produced to meet U.S. National Fire Protection Agency (NFPA) standards in order to meet State Fire Marshal inspections. Our roof and side covers come in 10 or 16 ft sections depending on the size of the tent, so that if damage occurs, one section at a time can be removed and replaced, giving even longer life to your tent structure.
It's no doubt that businesses are changing and adapting with the times. Liri Tent US has the solutions you need to expand restaurant and venue event space for the comfort and safety of your guests. Give us a call today to discuss your specific needs!